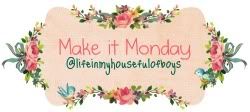 It's almost done.
While the boys were all watching a shinty match on Saturday afternoon (a few photos tomorrow), I watched from the car and finished crocheting my squares together.
I just have to finish off the border now.
I didn't have a pattern for the whole blanket, but the granny squares I found
here
. It's a really easy square to make and there is a super tutorial with photos for any beginner or tentative crocheters out there!
For my blanket and it's border, in my head I saw a thin pink stripe in between a couple of rounds of the cream. But once I had finished the pink round I thought I might leave it there.
Just to be sure though, I started another round of cream to see how it would look, and realised that my original plan was best and a final cream round will finish it off nicely.
So, I'm half way through the final cream edge and should have it done tonight.
Then I can take a photo of it in the daylight tomorrow to show you all.