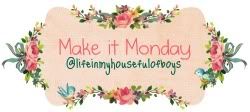 I have a whole new craft I've been trying out this week that I was excited to share with you all, but I left taking the photos until it was too late and it just doesn't show up as well without natural light - which is in pretty short supply in January in Scotland!
Anyway, I'll just keep that one hanging on there to tease you all until next week, and share another of my current projects tonight.
If you are wanting to share in Make it Monday, this one goes to show that I love seeing works in progress too, as that's what I have here.

It's the front of what will be a rather patriotic cushion!

Union Jacks are set to be on everything this year, what with it being the Queen's Diamond Jubilee.

All I need to do is add the envelope style back and then blanket stitch round the whole of the outside edge.

So, what's everyone else been making this week?