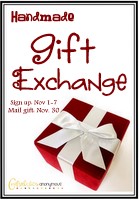 Tonight I saw this on Facebook and thought it was such a lovely idea that I checked out the website and then promptly signed up!
There will be two exchanges, one for those based in the US and another for those of us who are 'International'.
It sounds like a really fun way to get to know another fellow crafter and I can't wait to find out who I'm paired up with!
Check out the link above if you want to take part too.