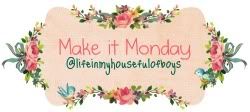 This week I thought rather than share something I'm working on, I would share some of the inspirations and ideas I have for future Make-Its.
Hand's up who is on Pinterest? The following ideas have all come from there, a wonderful source of inspiration for crafters, bakers, designers etc. I have seen numerous people say how addictive it becomes, but to be honest it isn't too bad. You just need a bit of self discipline, and so I limit how often I let myself go there!
Here we go then, a list of things that I have been inspired to try out!
~Things to make with cardboard boxes. My boys love to hoard boxes for any type of invention they might need to make in the future, so this has their name all over it!
~Slime! I'm not too sure how this would be for little hands with eczema, but it certainly looks like fun for boys.
~This next one is possibly my favourite. We go through (literally!) so many pairs of jeans in this house but this is such a wonderful way to patch them up.
Moving onto a few foodie ideas to finish off.
~Calum my little owl lover would love both of these.
Just need to find some wheat & dairy free Oreos first.
~These would be just the thing for brightening up packed lunch boxes. So cute.
So there we have it. Just a wee selection of things I want to try out.
If you are on Pinterest and want to see what else I have pinned you can find me
here
.
Or, if you haven't joined up and want to see what all the fuss is about, then send me a wee email and I will send you an invite. I'm not sure why it is invite only, but that's the way it works just now anyway.
Happy Makings!